The most beautiful and natural results are achieved with a combination approach. Along with Skin Rejuvenation and Skin Tightening procedures, here are some of our favorite treatments Dr Amato performs to create a more youthful and beautiful appearance.
BOTOX® Cosmetic (and other neuromodulators)
Dr Amato has been injecting Botox for over 20 years. You want to make sure your provider has this kind of experience in order to receive the very best and safest results possible. We offer customized treatments to meet each patient's needs
Botox is one of our very favorite cosmetic procedures. BOTOX® Cosmetic, along with Dysport and other neuromodulators, makes moderate to severe frown lines, crow's feet, and forehead lines look better. You look like you, only with less noticeable facial lines. These treatments are quick, comfortable, affordable, and give significant results. You can return to your daily routine immediately after you leave the office. You may start to notice results within 24 to 48 hours, with full results usually in 7 to 14 days. Results lasting up to 4 months. We can often help patients with other specific requests like lifting the brow, slimming the jawline, improving neck lines, or creating a fuller upper lip.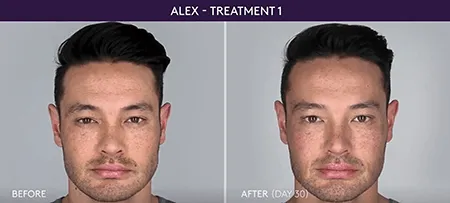 Dermal Fillers and Collagen Stimulating Injections
Dr Amato has been skillfully injecting Dermal Fillers for over 20 years.
Dermal Fillers are used to replace volume loss in the aging face to create a more youthful and balanced appearance. There is a definite artistry and skill to properly evaluating the face, choosing the proper filler, and in proper and safe injection technique. Whether treating the nasolabial creases, marionette lines, lips, cheeks, chin, temples, tear troughs or jawline, you want your provider to have an aesthetic eye and a true understanding of facial anatomy.
Another part of the artistry is choosing the best materials to be used. We use a variety of different fillers from the Juvederm and Restylane family of products, depending on the specific needs of the patient and the situation. In addition, Dr. Amato uses Sculptra, and Radiesse, which are unique injectables that can encourage the body to create new collagen in the skin where injected.
Through advanced facial sculpting techniques, Dr Amato can enhance, rebalance, and restore lost volume to give you a more youthful and beautiful face.
KYBELLA
Kybella is an injectable medicine used to improve the appearance and profile of submental fat below the chin, also called "double chin." When injected into the fat beneath the chin, KYBELLA® destroys fat cells, resulting in a noticeable reduction in fullness under the chin. Since everyone's chin profile is different, the number of treatments varies from patient to patient.